The ZTAG system is a Drone Laser Tag System designed to work with any HD digital drone! Are you ready to be a real fighter pilot? ZTAG simply provides a circuit board with mounting holes and you can decide the best way to mount this in front of your HD camera. There are STL files for common frames that have 18-33mm spacing between its bottom camera standoff screws. The board will require 5-28V input voltages (handles 2S-6S or 5V directly from your flight controller).
Never Fly Solo Again
The First Person View (FPV) drone experience has been solo... until now.
What? Do you think having another FPV pilot flying next to you isn't solo? That's like watching VR movies together while sitting on the same couch!
1-on-1 or Team Play
Experience real-world aerial combat with ZTAG.
We're bringing video games to real life and taking drone racing to the next level!
How Does It Work?
ZTAG works by proximity. Simply fly your drone close enough to the rear of another drone to tag it. It's that simple.
Downloads
These prints are necessary for the proper mounting and performance of your ZTAG Laser Tag system! 
Check out this video by Rotor Riot featuring ZTAG!
Features
Supports up to 24 external RGB pixels for ultimate interactive flash!
1-on-1 or Team Play
Firmware updates via USB-C
Real-World Aerial Combat
Proximity Tagging
Piezo buzzer
5 IR blasters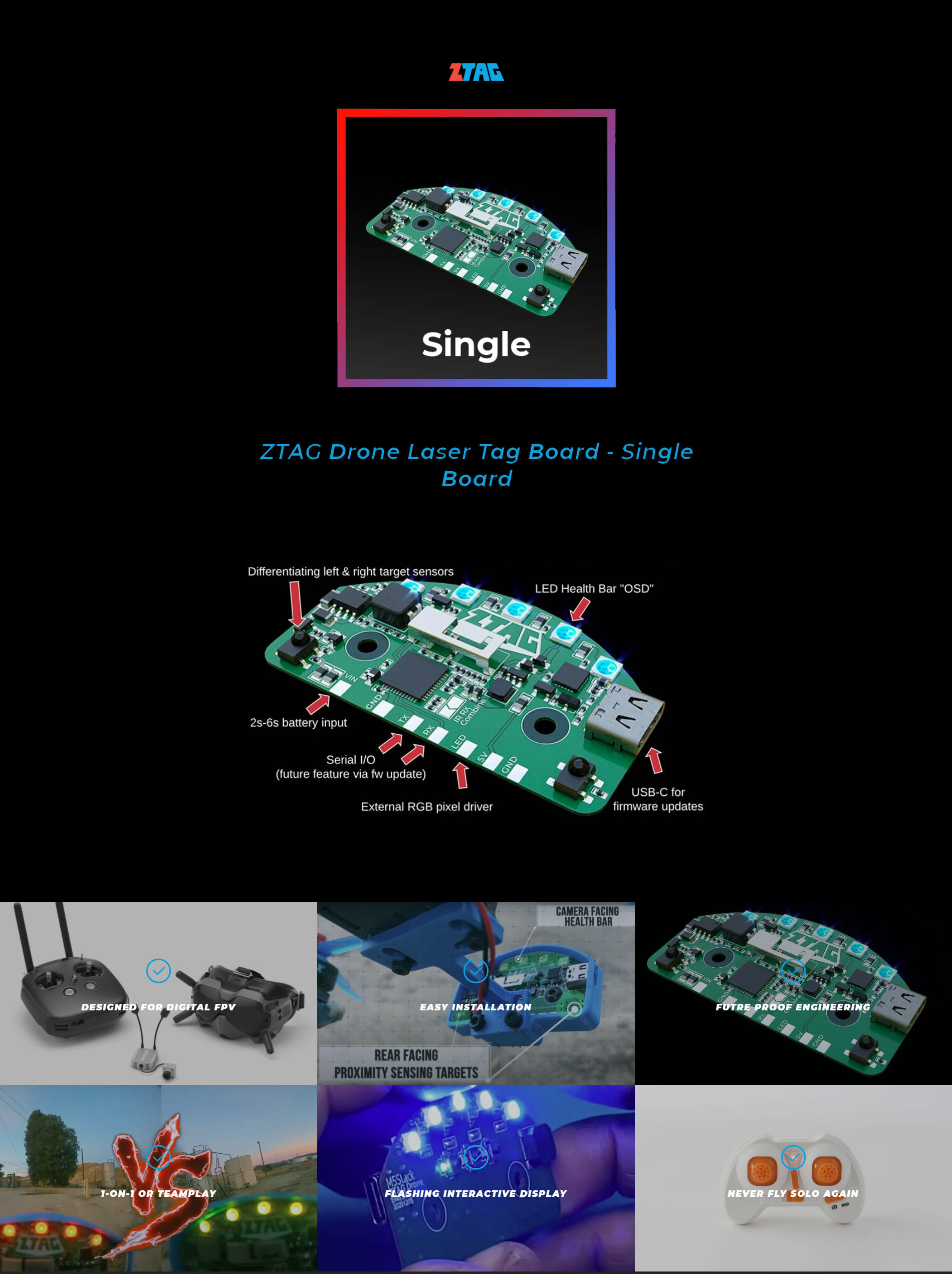 Specifications
Scoring Broadcast: 2.4 GHzInput: 2S-6S
Differentiation target sensors: Left/right 
Team color pixels: RGB
Health bar pixels: RGB
Mounting holes: M3
Includes
1x Male pin balance lead connector (6S, you'll have to trim it for lower S batteries)
1x ZTAG Drone Laser Tag circuit board
1x Set of 24 AWG power input wires
Note: You will need at least 2x boards to play with a friend! Don't forget to order 2x in most cases unless you are buying a replacement.