This 620mm wingspan Talon 250G is the world's tiniest Talon ever - at just under 250 grams!
Continuing with the success of the ultra-light and highly portable models, the Dart 250G, and Drift, we now bring to all the V-tail lovers a Talon that can be flown anywhere: The Talon 250G. This plane is capable of achieving flying weights below 250G with full FPV gear (VC400 and Kopilot Lite or similar). The Talon 250G packs tons of fun in a very small footprint! Similar to its sibling the Nano Talon EVO, this Talon has wonderful handling due to the 4 channel configuration (with rudder) will give you a much more realistic and flexible experience than a wing with elevons only.
The high-strength ultra-light EPP foam material with a built-in carbon fiber tube makes it rigid and durable in a crash. The interior of the fuselage is spacious allowing for a lot of FPV gear and a big battery inside for long endurance FPV flying. Its power system is exactly the same as most of the quadcopters in the market, so you can fly this Tiny Talon as a racing airframe. The specially designed FPV camera pod fits most of the AIO FPV cameras in the market.
VIDEO: ZOHD Talon 250G
Features
Easy to hand launch, super stable flying performance, 18- 80km/h flying speed
Textured on both sides of the fuselage for a more secure hand launch grip.
Compatible with most of the racing quad power systems and FPV gear.
NACA air-intake in nose and air-outlet in the tail for better cooling.
EPP molded airframe, built-in carbon fiber spar for enhancement.
Straight wing brings a more stable and agile attitude in flying.
The world's 1st Talon is capable of sub 250 grams.
With bump marks for "CG" under the main wing.
Detachable wing, portable, and easy to pack.
Small size, ideal to fly in small areas.
Big battery bay for Lipo or Li-ions.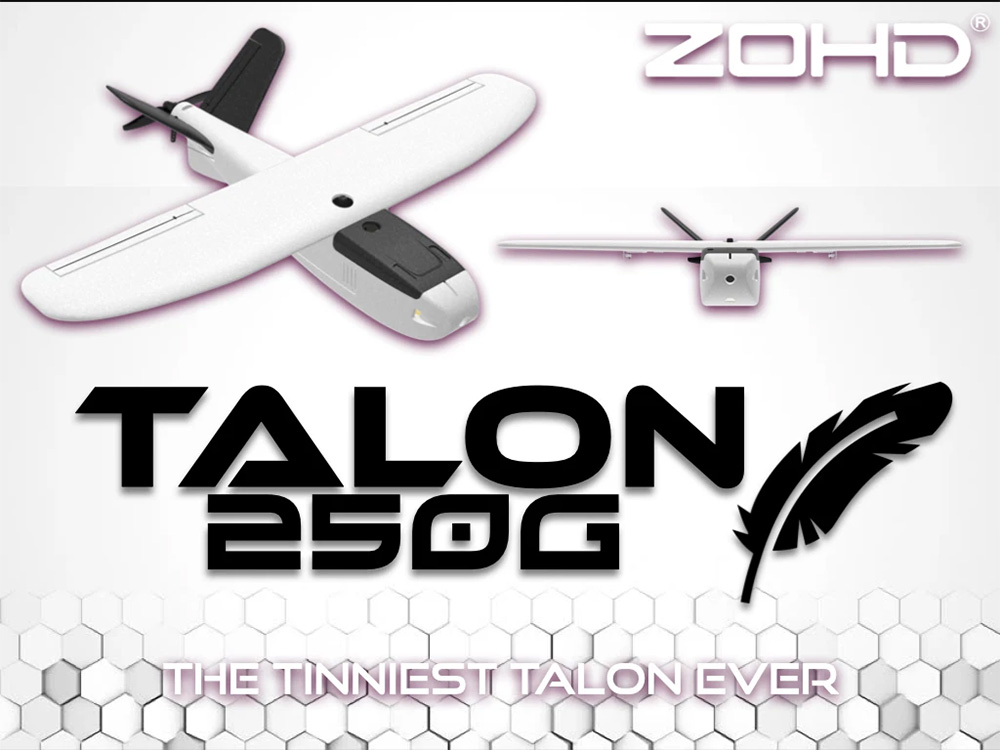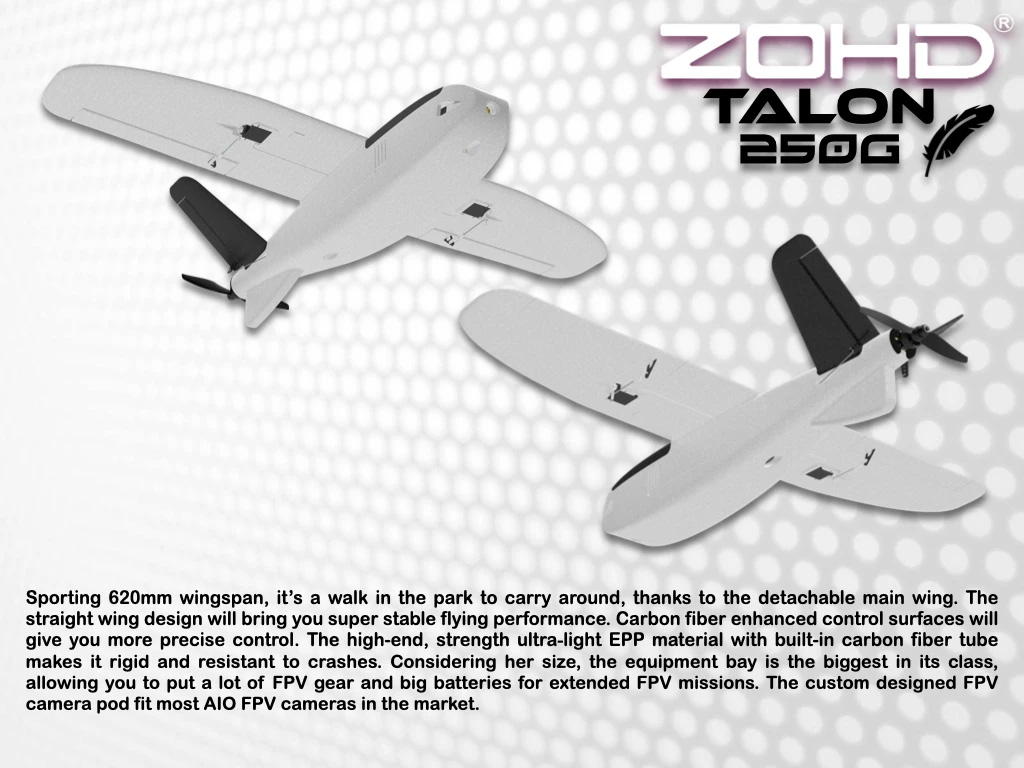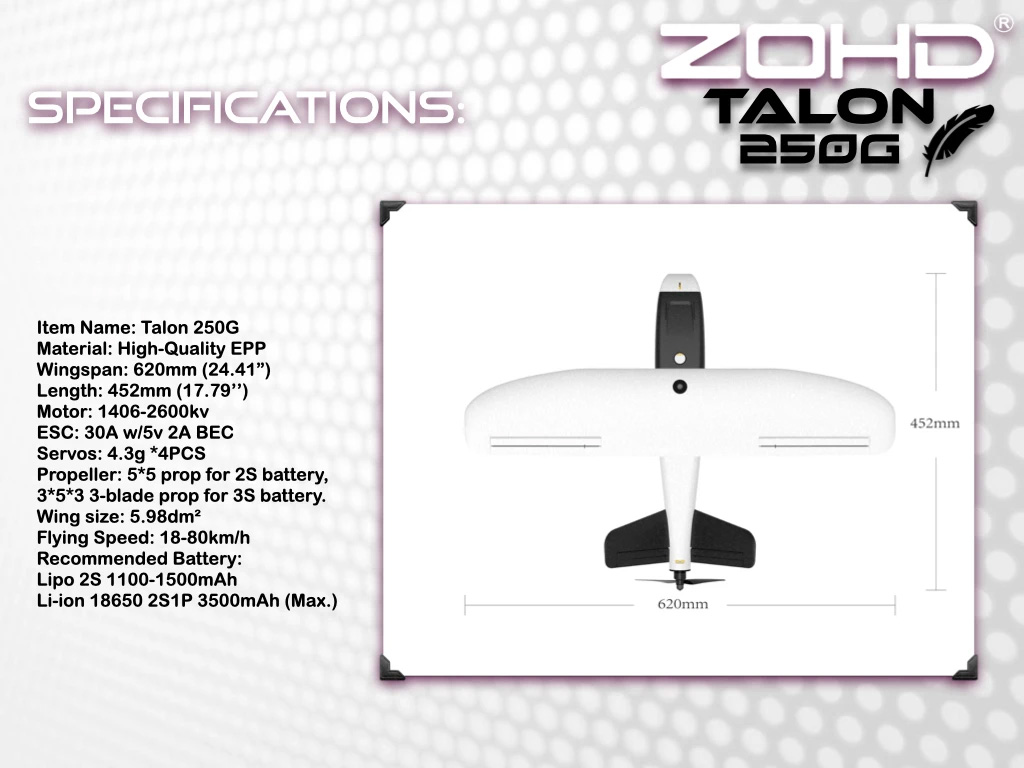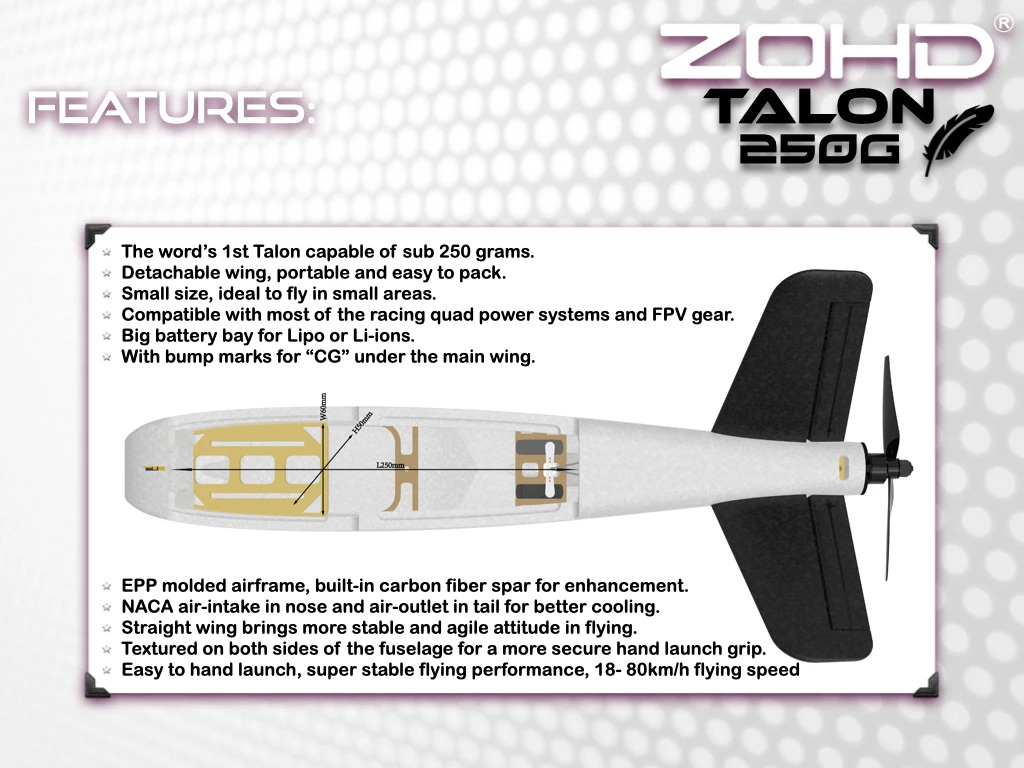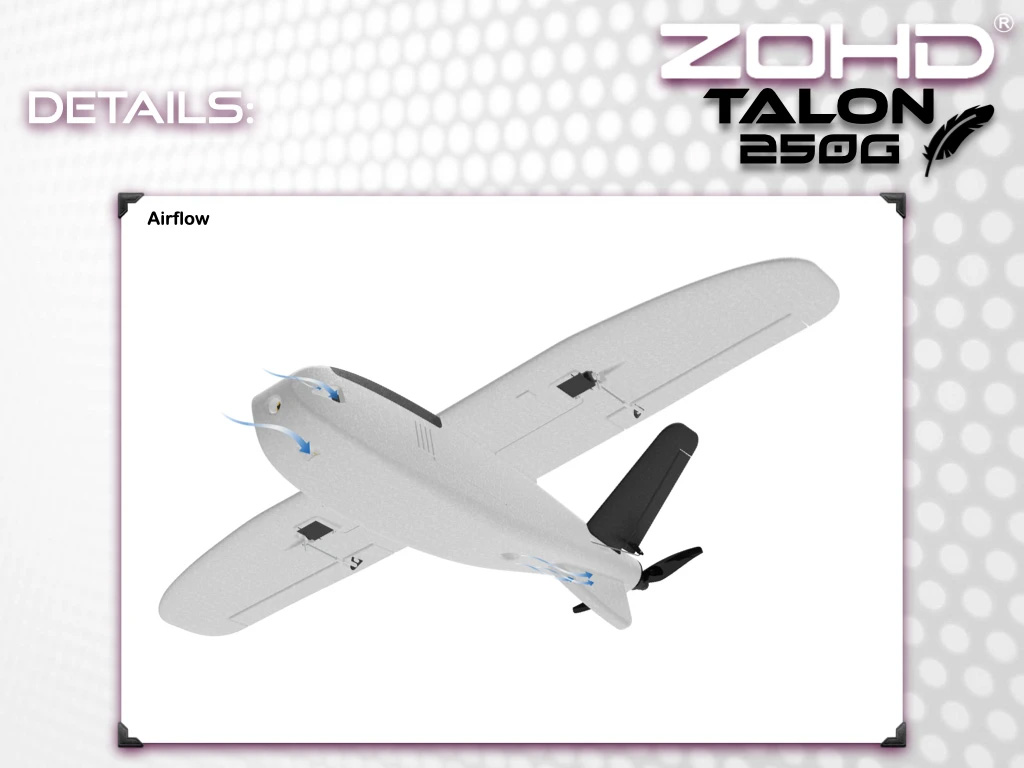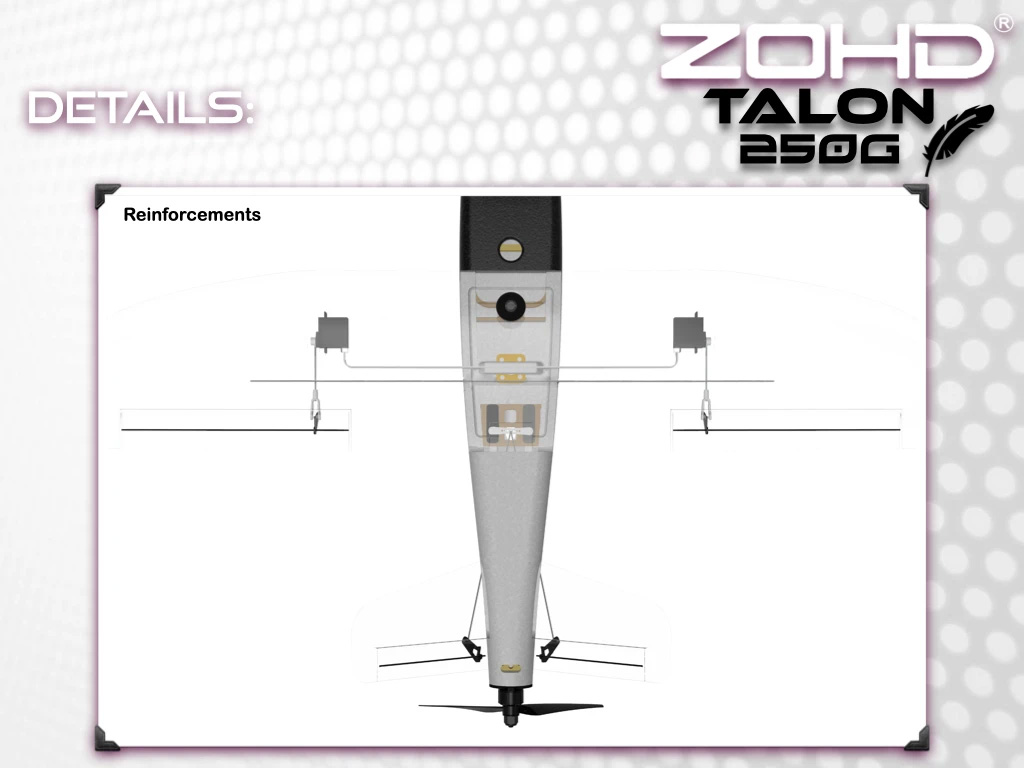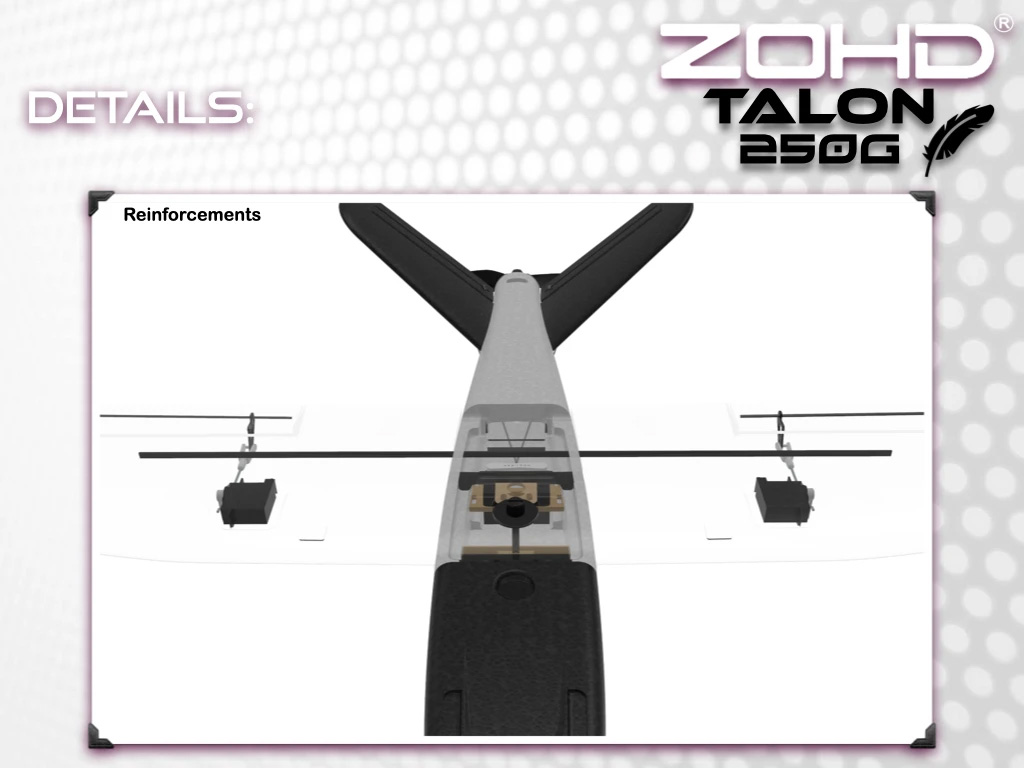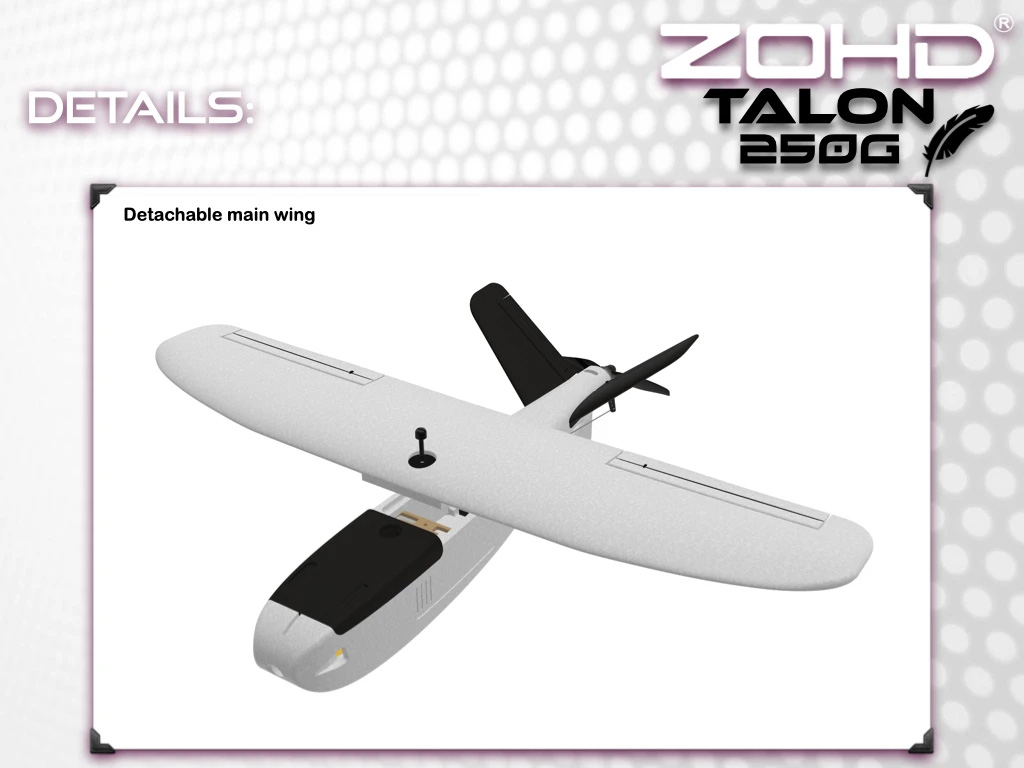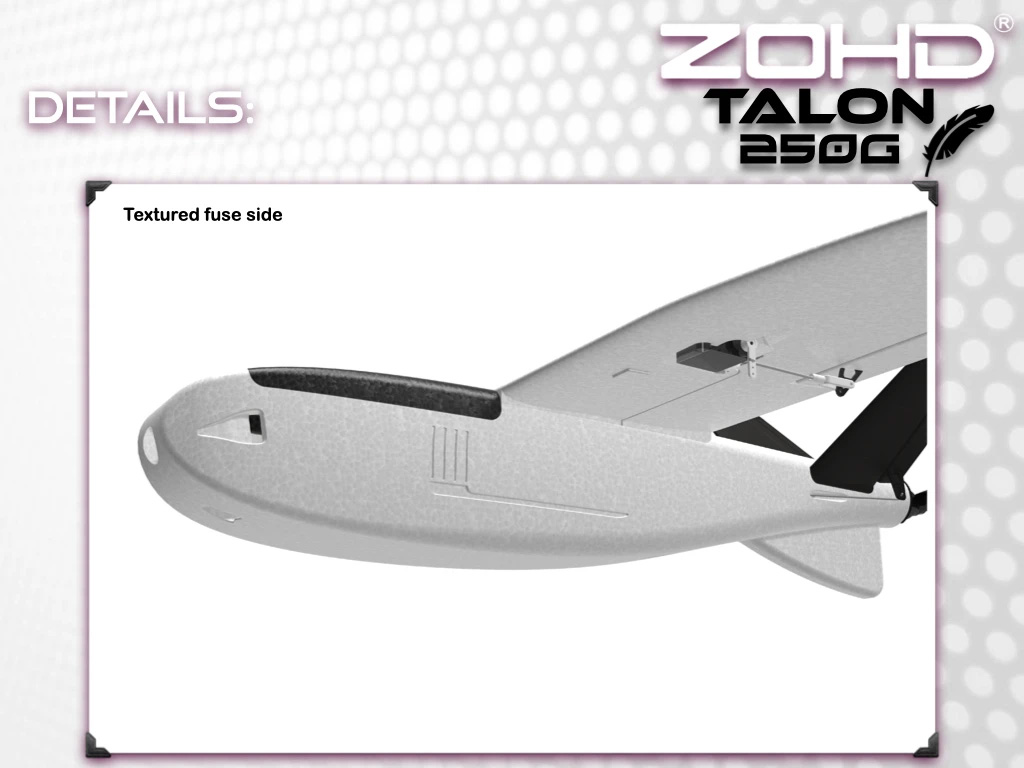 Specifications
Recommended takeoff weight: 240-320g
Propeller: 5*5 prop for 2S battery
3*5*3 3-blade prop for 3S battery
Wingspan: 620mm (24.41")
Material: High-Quality EPP
Flying Speed: 18-80km/h
Length: 452mm (17.79'')
Item Name: Talon 250G
ESC: 30A w/5v 2A BEC
Servos: 4.3g *4PCS
Motor: 1406-2600kv
Wing size: 5.98dm²
Recommended (Not Included)
User Manual
Includes 
ZOHD Talon 250G Plane - PNP