This is the quad only. 
Note: Please give at least 2-4 weeks for building and testing your quad. 
Each Phreakstyle RTF is hand-built, tuned and test flown in the USA.
May or may NOT come with POPO
---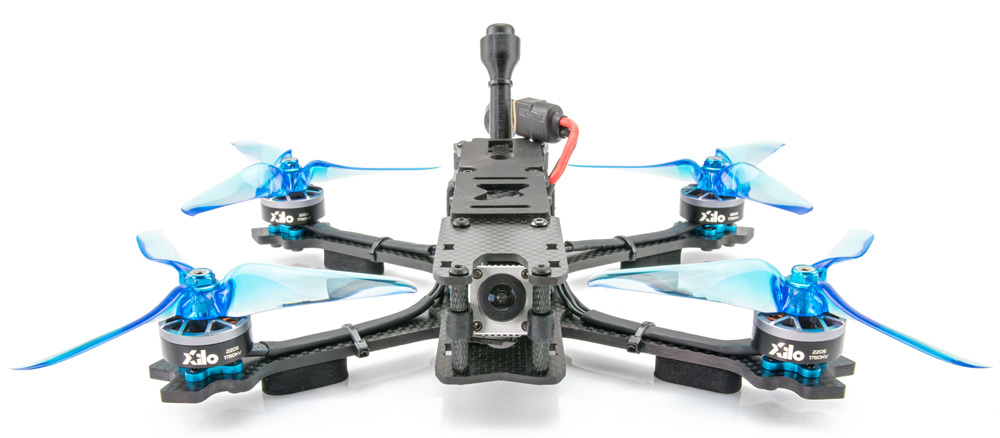 6S Power w/ DJI
XILO together with the DJI FPV system gives you the best way to experience HD Digital FPV. With the 720p video shown at 120fps through the goggles, DJI has set the bar at a new high for clarity and image quality in an FPV system. The XILO Phreakstyle is the perfect platform to use with the DJI system, giving ample room for the Air Unit and other accessories you might want to add without cramped cables and electronics.
The XILO Phreakstyle is a high-speed cinematic platform that provides HD footage in a highly mobile yet smooth setup. Built with 6S motors, the Phreakstyle DJI RTF gives that extra oomph to make your freestyle experience feel much more responsive than a normal freestyle cinematic focused quad.
Using the DJI FPV system, you'll gain a new appreciation for grass, branches, and power lines - all things that were almost invisible with an analog setup, but not with the DJI HD FPV system.
Features
RTF fully built and test flown by our technicians at our Florida facility
Equipped with the DJI Digital HD FPV System - all set up and ready to go

Buttery-smooth 720p 120fps FPV feed

Custom 3D printed parts made for the DJI system
Pre-tuned with smooth freestyle settings
Full 3K Carbon Fiber freestyle airframe
Dual electronics mounting stacks
Powerful XILO motors (

6

S

)
XILO Stax FC and ESC 6S stack
Black Oxide steel screws
Easy-grip knurled black anodized spacers
"Bumpers" on the end of the arms to protect the motor during a crash
Weight
Airframe: 125g (airframe + hardware)
AUW: XILO Phreakstyle w/ DJI Digital FPV has an AUW of 390g (excluding battery)
RTF Included Components and Parts
A fully built and tested XILO Phreakstyle RTF Freestyle Quadcopter
Additional Suggested Parts
FPV Goggles (required to use DJI Air Unit)
Radio Controller
Important
The DJI HD FPV Air Unit is currently only compatible with the DJI FPV Goggles. While optional in this bundle, IT IS REQUIRED to use the DJI FPV Goggles with the DJI FPV Air Unit on this quad. We are leaving the goggles optional just in case you already bought a combo and just want another RTF with an air unit!
The DJI Remote Controller is recommended for beginners since you won't need to set up another receiver.