The Blaster Motor is back! When initially released, the Blaster Motors were made with one specific purpose - to let you fly hard and push your limits, develop your skills and become a better pilot, without taking a toll on your wallet!
This motor's bell is made from aluminum and anodized to a distinctive dark red color, while the steel magnet ring is silver with black accents. The distinctive bell is supported by a hollow-core steel shaft and held in place with a hex screw that facilitates motor service.
Following the trend of lower KV and higher voltage batteries, the new Blaster Motors have been designed to run at 1800KV. This makes it an ideal choice for pilots who are considering moving to 6S to enjoy extended flight times and less power sag.
The Blaster Motor does not make any compromises when it comes to durability or performance. The open design allows the motor to dissipate heat more easily and facilitates cleaning and maintenance compared to fully enclosed motors. The base follows the standard Hypetrain 16x16mm mounting screw layout, which optimizes mounting options, maintaining compatibility with older frames and saving a little bit of weight.
By owning Blaster Motors, you are automatically covered by the Blaster Replacement Program. This means that if your motor breaks or wears out, you can replace it at a very low cost!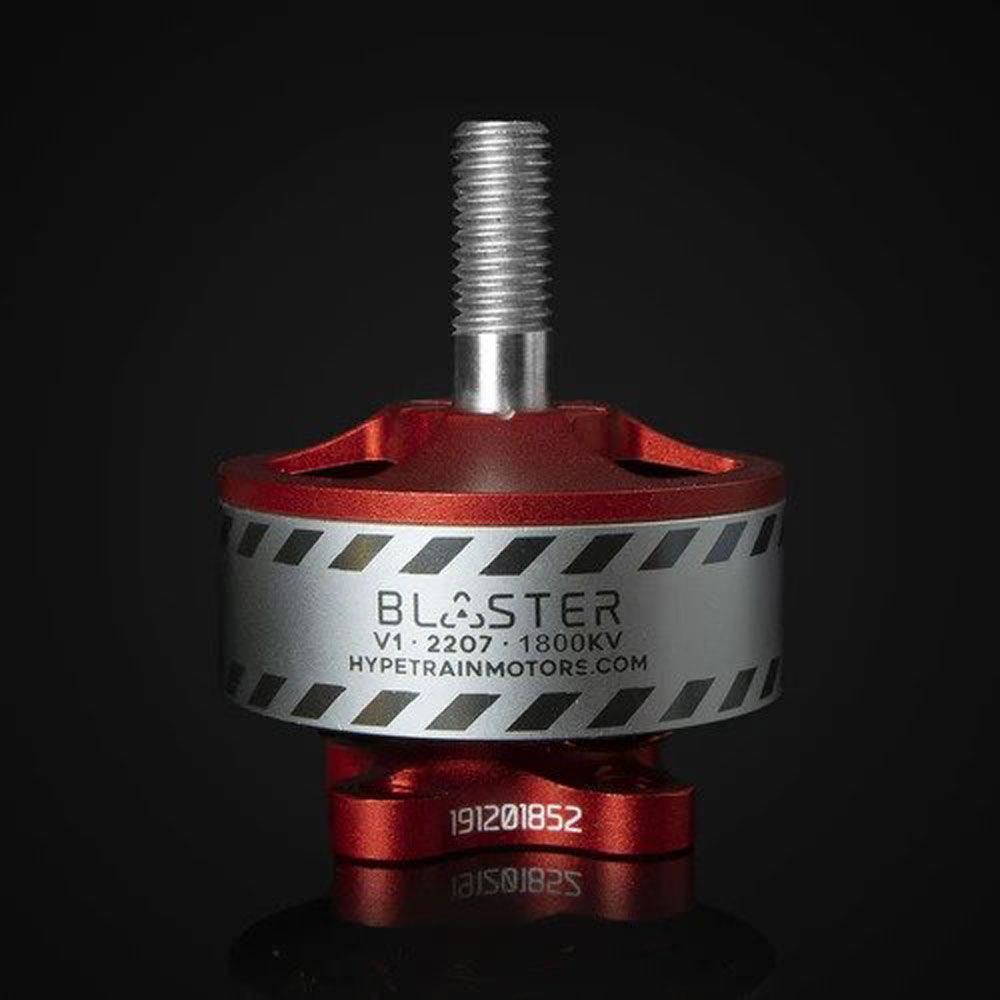 Features
Unique Bell Design

Machined Aluminum Top and Bottom

Hollow Stainless Steel Shaft

Shaft Screw (No C-clip)

"Naked Bottom" Design

Copper Windings

Silicone Sheathed Wires

Square Mounting Pattern

Unique Serial Number on the Motor Base
Specifications
Model: Hypetrain BLASTER 1800KV

KV: 1800KV

Stator Diameter: 22 mm

Stator height: 7 mm

Propeller Shaft Size: M5

Wires: 118 mm 20AWG Silicone Sheath

Bell Material: 6061 Aluminum

Magnets: N50 Curved Magnets

Mounting Screw Pattern: 16×16 mm

Input Voltage: 4-6S

Bearings: NMB
Includes
1 x 

Rotor Riot Hypetrain Blaster 2207 1800KV Motor