The Lumenier 5x3.7x4 propeller is an ultralight quad blade prop with incredible responsiveness, grip, and POPO compatibility. Four bladed props are not in the limelight lately, so we tried to change that.
This prop was designed to give you great control in the air without sacrificing tons of amps and power draw. This is achieved by using a super light design, (only 3.9g which is incredible for a 5" four blade propeller) giving you a lightning fast spin-up time. The four blades grip the air and allow quick adjustments and corrections. Usually this "grip" is done by using a very aggressive pitch, however, at high RPM, the pitch starts to become less efficient and drag starts to come into effect. With this propeller, the four blades allow great thrust during the low end, while the mild pitch of 3.7" and light weight allow for great responsiveness and efficiency at higher RPM.
It's a perfect marriage of efficiency, power, and control, making this a great all around four bladed prop.
Specifications
Rotation: CW/CCW
Length: 5"
Pitch: 3.7"
Material: Polycarbonate
Weight: 3.9g
Blades: 4
Includes
2x CW 5x3.7x4 Propeller
2x CCW 5x3.7x4 Propeller
Design. From the ground up.

During the design of any Lumenier propeller, key elements are considered such as blade RPM, motor size and KV, and overall flight envelope. These inputs create operating points such as Reynolds Numbers, Mach, Beta Angles, etc. which are used to guide the design process.
Performance based on Science.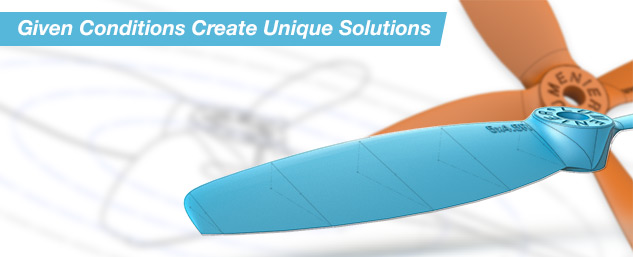 Given the operating points and design goals, Lumenier produces unique airfoils leveraging a proprietary genetic algorithm that iterates 10s of thousands of possible airfoils and compares them to each other and also a library of well known existing airfoils. This creates the best possible and most suitable combination of airfoils as well as overall blade design. For this reason, no 2 blades on any Lumenier propeller are the same.
Airfoil design with a purpose.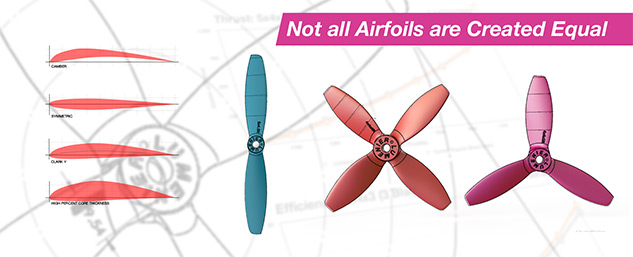 Calculus and proprietary algorithms help translate 2D coefficients of lift, drag, and moment into 3D coefficients that account for high blade loading and near static thrust conditions that a multi-copter will encounter during flight.