The DJI Mavic Air 2 Fly More Combo is bundled with a new more capable controller to boot. This bundle comes with a set of ND filters, 6 pairs of replacement propellers, and many accessories.
About DJI Mavic Air 2
A midrange drone with flagship features, the DJI Mavic Air 2 Fly More Combo combines a foldable and portable frame, high-end camera system, and a host of accessories to get you flying quickly. The 3-axis gimbal sports a 1/2" CMOS sensor capable of capturing 8K Hyperlapse time-lapse shots, 4K60 video, 240 fps slow-motion 1080p video, and up to 48MP stills. In addition, photos, panoramas, and video can be captured in HDR for more dynamic results. All your footage can be saved to 8GB of internal storage and on optional SD cards up to 256GB in size.
Helping you capture all this stunning footage is a host of built-in tracking technologies and intelligent obstacle avoidance. FocusTrack combines three different tracking features with abilities that include tracking of subjects and following predetermined flight paths. The Advanced Pilot Assistance Systems 3.0 (APAS) is aware of the Mavic Air 2 in 3D space and its proximity to people and objects to help avoid accidental collisions. Return to Home (RTH) and precision landing options are supported so you can easily and safely retrieve the drone when you finish filming.
A robust 3500mAh battery can keep the Mavic Air 2 flying for up to 34 minutes at a time. While in the air, you can fly the drone at speeds up to 43 mph up to 11.5 miles away. The included remote controller supports OcuSync 2.0 technology to provide you with flight telemetry data and a live view of what the drone sees on your attached smartphone. It can transmit up to 1080p quality video from up to 6.2 miles away. Altogether, the Mavic Air 2 gives you the tools you need to expand your filmmaking with creative and professional quality aerial footage.
Fly More Combo
With the Fly More Combo, you get even more accessories with the Mavic Air 2. The accessory package is designed to help get you flying and filming right away, and to give you more capabilities when on location. Compared to the included accessories of the standard Mavic Air 2, the Fly More Combo gives you the following:
Extra Propellers: Three additional pair of props so you can make even more repairs if needed
Extra Batteries: Two extra batteries give you up to 68 additional minutes of flight time
ND Filter Set (ND16, ND64 & ND256): Three ND filters let you reduce incoming light and glare in your footage
Battery Charging Hub: Recharge your batteries while out filming to help maximize the amount of footage you can capture in a single outing
Battery to Power Bank Adapter: Lets you recharge mobile devices from one of the Mavic Air 2's flight batteries
Shoulder Bag: More easily transport the Mavic Air 2 and accessories to your filming location
FocusTrack
ActiveTrack 3.0: Follows a target while avoiding obstacles and can reidentify targets if lost.
Spotlight 2.0: Fly freely while locking the camera on a subject.
POI 3.0: Creates an automated path to fly around a target while keeping the camera centered
Hyperlapse Time-Lapse Shots
Free: Move the Mavic Air 2 where you want with total freedom.
Circle: Lock onto a subject and the Mavic Air 2 will circle it while continuously capturing footage.
CourseLock: This locks the gimbal onto a subject, automatically turning to keep it in the frame as you fly towards and past the subject.
WayPoint: Set a specific, savable flight path (up to 5 points) in 3D space for a single time-lapse, or for multiple shots at different times to edit together later.
SmartPhoto
Integrated scene recognition works with DJI's HyperLight and HDR technologies to adjust the camera's parameters and deliver optimal results. The scene recognition can detect five different categories: sunset, skies, grass, snow, and trees.
QuickShots
Capture cinematic video clips with just a few taps using pre-defined flight pattern modes. The Mavic Air 2 will fly a complicated aerial route and you can add music, effects, and filters using Story templates. The resulting footage can be directly shared onto various social media platforms. QuickShot modes include:

Dronie: Locks onto a subject and flies away while filming
Circle: Locks onto a subject and flies around it from a set distance
Helix: Locks onto a subject and flies away and above it in a unique pattern
Rocket: Locks onto a subject and flies above it while continuously gaining altitude
Boomerang: Locks onto a subject and flies away from it, then back towards it after reaching a certain point, all while continuously circling it
Asteroid: Locks onto a subject and then rapidly gains altitude
Obstacle
Utilizing APAS 3.0 and forward, backward, and downward sensors, the Mavic Air 2 actively avoids obstacles to stay safe while in flight. An auxiliary light on the drone helps to improve the sensor's visibility.
AirSense
Stay safe while in flight with AirSense technology. It utilizes an ADS-B receiver and satellite positioning to warn you of other nearby aircraft.
DJI Fly App
Control the Mavic Air 2, adjust settings and functions and utilize built-in templates to capture stunning videos. It also incorporates technology from the DJI Mimo app to allow you to edit footage.
Remote Controller
The included remote controller works with your existing smartphone to control the Mavic Air 2 and view live footage from the drone. It's constructed with a comfortable and ergonomic grip and provides up to 4 hours of battery life. Integrated antennas help to improve the signal performance.
Specifications
Performance
Maximum Horizontal Speed

43 mph / 19 m/s (S-Mode)
26.8 mph / 12 m/s (P-Mode)
11.2 mph / 5 m/s (T-Mode)

Maximum Ascent Speed 9 mph / 4 m/s
Maximum Descent Speed 11.2 mph / 5 m/s
Flight Ceiling 3.11 Miles / 5000 m
Maximum Flight Time 34 Minutes
Maximum Hover Time 33 Minutes
Maximum Tilt Angle 35°
Hovering Accuracy

±0.33' / 0.1 m Vertical with Vision Positioning
±1.64' / 0.5 m Vertical with GPS
±0.33' / 0.1 m Horizontal with Vision Positioning
±4.92' / 1.5 m Horizontal with GPS

Maximum Angular Velocity

250°/s (Pitch)
250°/s (Yaw)
250°/s (Roll)
Flight Control System
GNSS Support GPS, GLONASS
Vision System 
Vision System Downward, Forward, Backward
Forward Field of View

71° (Horizontal)
56° (Vertical)

Backward Field of View

44° (Horizontal)
57° (Vertical)
Remote Controller / Transmitter
Operating Frequency

2.4 GHz (2.400 - 2.484)
5.8 GHz (5.725 - 5.850)

Maximum Operating Distance 6.21 Miles / 10 km at 2.4 G
Transmitter Power

26 dBm (2.4 G)
26 dBm (5.8 G)

Connectivity

1 x Micro-USB
1 x USB Type-C
1 x Lightning

Output Power 38 W
USB Output Power

iOS: 5 VDC, 2 A
Android: 5 VDC, 2 A

Operating Temperature 32 to 104°F / 0 to 40°C
Camera
Sensor 1/2" CMOS
Effective Pixels 48 MP
Focal Length 24mm (35mm Equivalent)
Lens Field of View 84°
Aperture f/2.8
Minimum Focusing Distance 3.3' / 1.0 m
Photo ISO Range

100 to 3200 (Auto)
100 to 6400 (Manual)

Video ISO Range 100 to 6400
Photo Resolution 4:3: 8000 x 6000
Photo Format JPEG, DNG
Video Format

3840 x 2160p at 24/25/30/48/50/60 fps (MP4/MOV via H.264/AVC, H.265/HEVC, MPEG-4)
2688 x 1512p at 24/25/30/48/50/60 fps (MP4/MOV via H.264/AVC, H.265/HEVC, MPEG-4)
1920 x 1080p at 24/25/30/48/50/60/120/240 fps (MP4/MOV via H.264/AVC, H.265/HEVC, MPEG-4)

Recording Media SD (up to 256 GB)
Photo Modes Auto-Exposure Bracketing (AEB), Burst Shooting, Interval, Single Shot
Gimbal 
Number of Axes 3 (Pitch, Roll, Yaw)
Control Range

Pitch:-135 to 45°
Roll: -45 to 45°
Yaw: -100 to 100°

Angular Speed Pitch: 100°/s
Flight Battery
Battery Chemistry Lithium-Ion Polymer (LiPo)
Capacity 3500 mAh / 40.42 Wh
Battery Configuration 3 S / 11.55 V
Maximum Charging Power 38 W
Charging Temperature 41 to 104°F / 5 to 40°C
Weight 6.98 oz / 198 g
General
Number of Rotors 4
Operating Temperature 32 to 104°F / 0 to 40°C
Diagonal Size 11.9" / 302 mm
Overall Dimensions

3.8 x 3.3 x 7.1" / 97.0 x 84.0 x 180.0 mm (Folded)
10.0 x 3.0 x 7.2" / 253.0 x 77.0 x 183.0 mm (Unfolded)

Weight 1.25 lb / 570 g
Video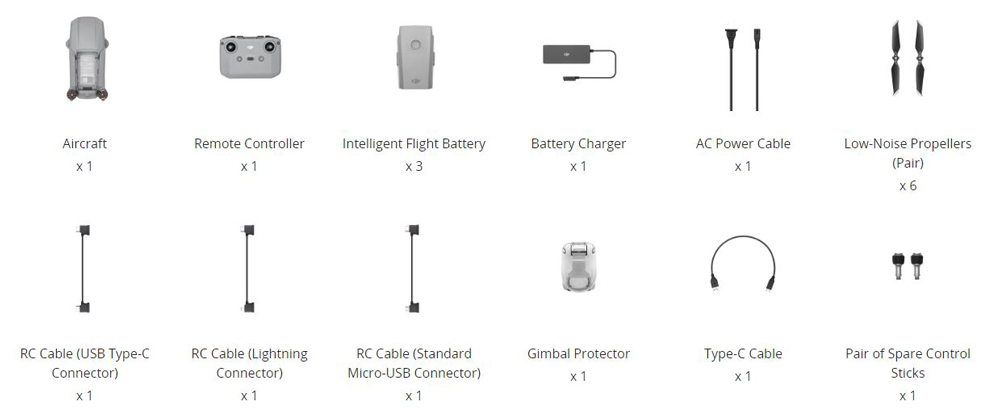 Includes
1 x Aircraft
1 x Remote Controller
3 x Intelligent Flight Battery
1 x Battery Charger
1 x AC Power Cable
6 x Low-Noise Propellers (Pair)
1 x RC Cable (USB Type-C Connector)
1 x RC Cable (Lightning Connector)
1 x RC Cable (Standard Micro-USB Connector)
1 x Gimbal Protector
1 x Type-C Cable
1 x Pair of Spare Control Sticks