After BT2.0 Battery Charger and Voltage Tester, PT2.0 Battery Charger and Voltage Tester are following close at its heels. PH2.0 charger is tailored for all PH2.0 1S Battery. Not only a charger but also a cell voltage tester! The charge current is up to 1A, which improved its efficiency and shorten the charging time. 
Features
Paired with PH2.0 battery connector
Supports to charge two batteries at the same time, its charging current has upgraded from 0.5A to 1A, which makes the charge speed double
The ingenious design of USB input, it is very convenient for charging. Compatible with mobile phone adapter, computer, etc.
Have two functions of testing voltage and charging in one, compact and easy to carry.
Specifications
Model: PH2.0 1S Battery Voltage Checker
Plugs: PH2.0
Voltage: Works with regular and HV battery packs
Voltage cut off: DC 2.45-4.70V
Voltage range: DC 2.50-4.70V(1S)
LCD: Red
Weight: 15.14g
Dimensions: 66.3*23.6*14.4mm
Working tem: -20~75℃
Storage tem: -25~85℃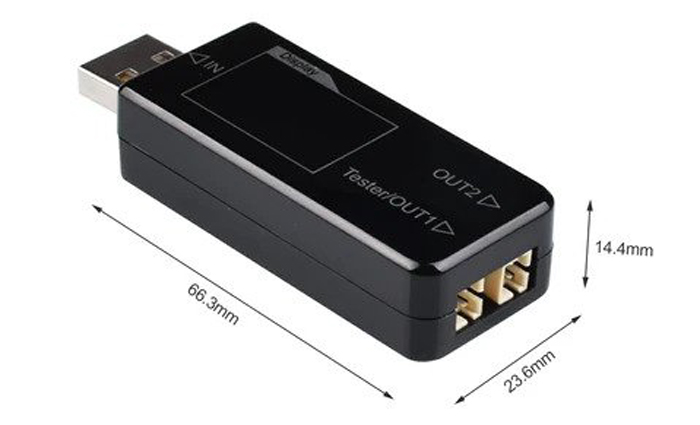 Instructions
Power-on state
OUT1/OUT2 can be charged simultaneously
Input : USB-5V/2A
Output: 4.35V/1A
The red light indicates charging, and the green light indicates fully charged
Power-off state
OUT1 can be used as battery tester while OUT2 does not possess any function
Includes
1 x PH2.0 Battery Charger and Voltage Tester