BETAFPV has upgraded the world's first whoop FC with Silverware firmware to the V2 version! With tons of improvement and an antenna soldered in, the BETAFPV Lite Brushed Flight Controller is a winner in the current market! The Lite Brushed V2 FC features 2 RGB LEDs, supports firmware upgrade in DFU mode via USB port and comes with Integrate 25mW VTX and integrated altitude sensor.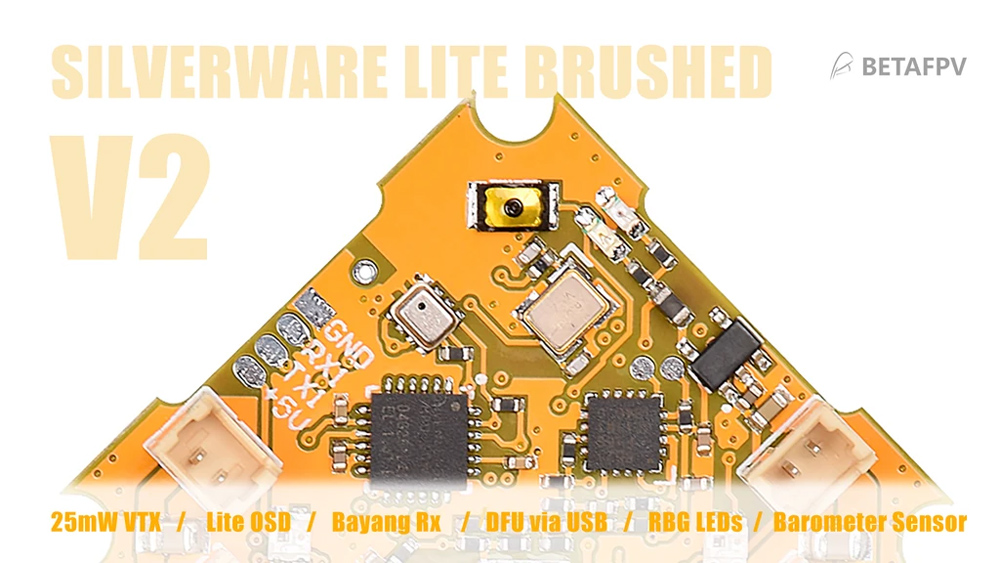 Features
The world's first FC board is compatible with Silverware firmware. This must be the most simple and affordable method to try whoop FPV racing hobby.
Support level mode and acro mode. Also, it has the ability to change settings for custom builds or to adapt to personal preferences by stick gestures.
Designed to work with current Tiny Whoop or Blade Inductrix frames
Built-in Bayang protocol native receiver, compatible with almost radio transmitter with deviation firmware or deviation compatible transmitter module
The flight controller board comes pre-flashed with Silverware firmware, and pre-soldered 55mm power cable pigtail with JST-PH 2.0 connector, AKA PowerWhoop connector.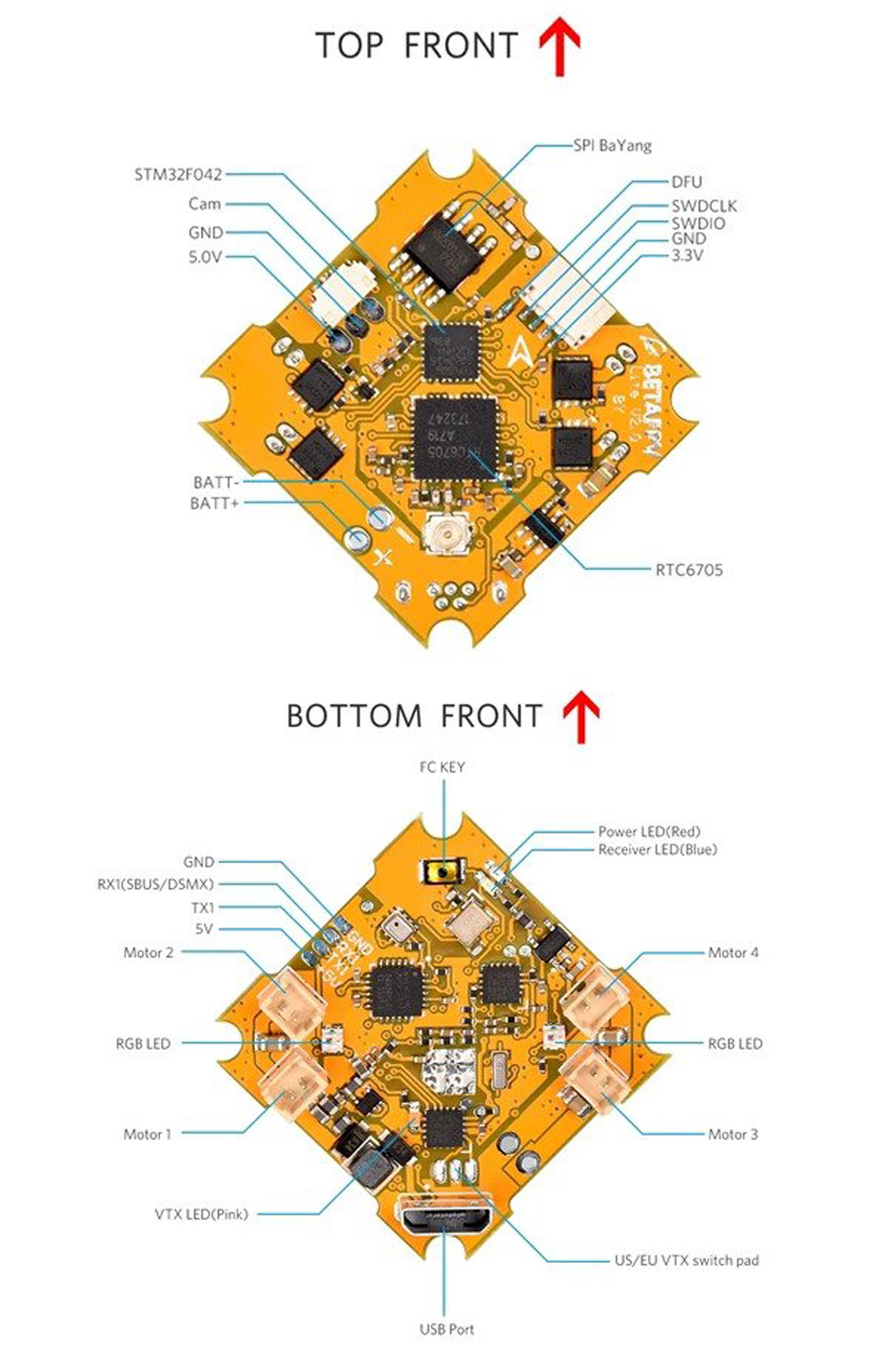 Specifications
CPU: STM32F042
Six-Axis: MPU6050
ESC: All FETs are rated at 6.3A maximum. Support 6x15mm/7x20mm/8x20mm/8.5x20mm etc motors.
Size: 26mm x 26mm, fully compatible with the Inductrix quad frame and mounting pattern
Firmware version: Silverware firmware
Receiver: Bayang protocol
Power Cable: 55mm, with JST-PH 2.0 connector, AKA PowerWhoop connector
Weight: 2.5g
Supported Radio Transmitter
Currently, the built-in receiver is compatible with the Bayang protocol. Here is a listing of radio transmitters that could be compatible with this FC board.
BETAFPV LiteModule RF Module ( with PA, range >300m, suit for Frsky Tanaris QX7 X9D X9D Plus X12S, Flysky TH9X, Turnigy 9XR/9XR PRO)
The radio transmitter of toy drone like JJRC H67, Eachine E011, etc, that using the Bayang protocol
Jumper T8SG radio transmitter
MTX-9D multiprotocol module
Another 4in1 multiprotocol module that support the Bayang protocol
Includes
1 x BETAFPV Lite Brushed Flight Controller V2.0 with Antenna
4 x M1.2x4mm screws (Fit for stock Inductrix frame)
4 x M1.4x5mm screws (Fit for Beta75 etc 75mm frame)
4 x Anti-vibration rubber dampers