Note: Does NOT support DSMX rx
Lightweight and easy install, this F4 2-4S AIO FC (BLHeli_S) is suitable for brushless whoop like 2S Pro 2 Series/ X Series. It weighs 5.6g with an integrated Betaflight MATEKF411 processor FC, Betaflight OSD and 2-4S 12A ESC which can support 4S battery for crazy fast power whoop flying!
Recommended Battery / Motor Combo
2S: 1103 11000KV / 0802 12000KV / 08028 12000KV
3S: 1103 8000KV / 1105 6000KV
4S: 1105 5000KV
Specifications of FC
CPU: STM32F411CEU6 (100MHZ )
Six-Axis: MPU6000 (SPI connection)
Size: 26mm x 26mm, whoop mounting pattern
Firmware version: Betaflight MATEKF411 (MK41)
OSD: Built-in BetaFlight OSD (STM32 controls OSD chip over SPI in DMA mode)
Receiver:

Support Frsky XM/XM+ Receiver/ Futaba Receiver/ Flysky Receiver/ TBS Crossfire Receiver

 (Note: Does NOT support DSMX rx)  
Support programmable LED like WS2812 etc
Built-in current sensor
Weight: 6.2g
Specifications of ESC
Support BLheli/BLHELI_S suite Pass-through ready
Support PWM, Oneshot125, Oneshot42, Multishot, Dshot150, Dshot300, Dshot600
Input voltage: 2S-4S Lipo
Continue current: 12A
Peak current: 13A
Firmware: BLHELI_S
Processor: SILABS EFM8BB21F16G
Motor Connectors: 1.25mm header pins connector
Factory firmware: G-H-30-16.7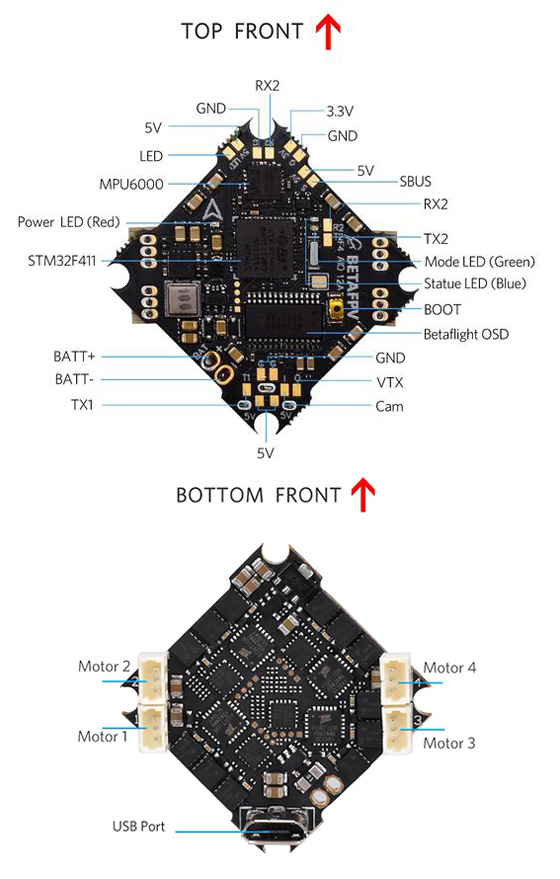 Can the ESC on this AIO board support really 4S battery?
Yes. But please pay attention to the motors. Here are two situations that the motor will burn itself and then the ESC frequently.
Situation 1: The motor's KV value is too high and could not stand the 4S power. For example, the BETAFPV 1105 6000KV motors could not stand the 4S power in aggressive flying. So we are working on a lower KV 1105 motor that could use with 4S battery. It will be released soon.
Situation 2: A poor quality motor will result in a 4S power.
Important: For the moment, no 0x0x/1102/1103 motors can stand 4S power that we know of. Please make sure your motors could support the 4S battery before using.
Includes
1 x F4 2-4S brushless flight controller with XT30 Plug
4 x M1.2x4mm screws
4 x M1.4x5mm screws
4 x Anti-vibration rubber dampers