The BetaFVP Cetus Kit has everything you need to begin your flying experience! The highly anticipated Cetus FPV Kit is the best choice for FPV beginners to explore the FPV world and bring your family and friends into this hobby. The Cetus FPV Racing comes with the Cetus brushed whoop quadcopter, LiteRadio2 SE transmitter, and VR02 FPV Goggles, which is everything you need to get up in the air!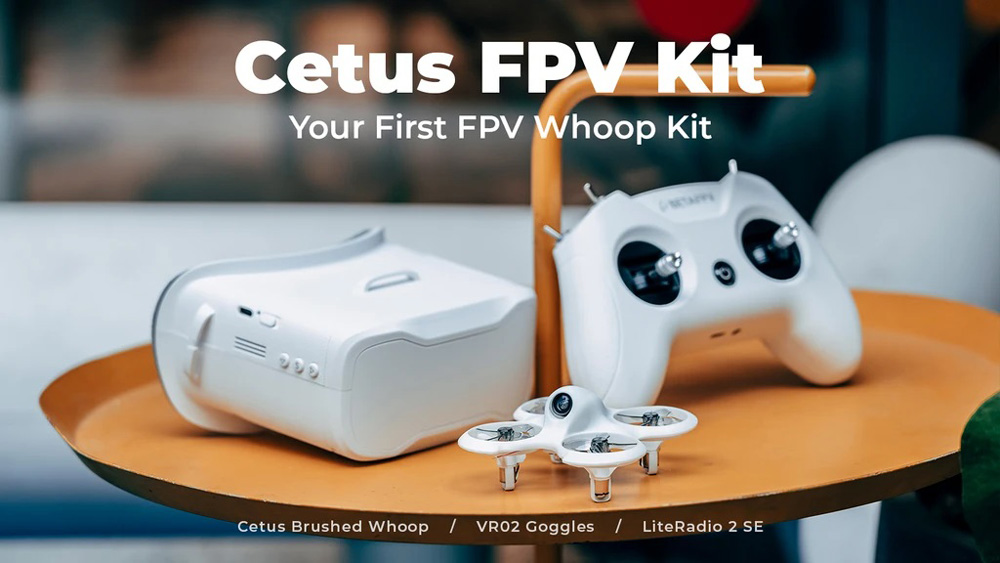 Video
Features
Auxiliary flight function suitable for beginners, greatly reducing the threshold of operating. Now everyone can fly!
Including N-Mode, S-Mode, M-Mode, which can satisfy different pilots' needs and various flight environments.
Cetus brushed quadcopter, LiteRadio2 SE transmitter, VR02 FPV Goggles, batteries, charger, etc., everything needed for flying is included.
Equipped with Type-C port charging cable, unified charging port for all devices, more convenient for charging.
All parts are stored in a special customized portable storage bag, which provides better protection and easy to carry.
Positioning / Attitude Determination
3 Speeds: Slow/Mid/Fast
3 Modes: N/S?M Modes
Specifications
Power System: 1S
Motor:716-19000KV Brushed Motor
Propeller:31mm 4-blade 0.8mm sharft hole
Receiver Protocol: Frsky D8
Positioning System: Optical flow, Barometer, Laser
Self-protection: Emergency landing, Automatically disarm
Flight time:4-5min
Flight distance: 80m (in wide & undisturbed environment)
Angle Locating: Optical flow ( effective height 0.3-3m)
Height Positioning: Laser / Barometer
Accuracy of Auto-Hover: Horizontal ±0.2m, vertical ±0.3m (under no wind environment)
Auto-Hover only active in N Mode
Takeoff weight: 27g ( without battery)
Battery: BT2.0 300mah 1S Battery (External )
Size: ≤91mm×86mm×44mm
Camera
Camera Tilt Degree:25°
Camera: C01 FPV Micro Camera
Camera resolution:800TVL
Frequency range: 5.8GHz
Protocol: Frsky D8
Literaio2 SE Transmitter
Mode 2 (Left stick throttle)
Frequency Range: 2.4G (2403MHz-2447MHz)
Charging Connector: Type-C
Battery: Built-in 1000mAh Battery
VR02 Goggles
View Angle: 55°
Charging Connector: Type-C
Battery: Built-in 2000mAh battery
Altitude Hold Function
The Altitude Hold function enables the Cetus quadcopter to Auto-Hover. The quadcopter can stay at a current height when pilots' hands are off the transmitter. The barometer/laser achieves accurate and stable positioning, which makes the quad hovering indoors very stable. The flight has never been so easy for a beginner.
The Altitude Hold function can be active only in N Mode.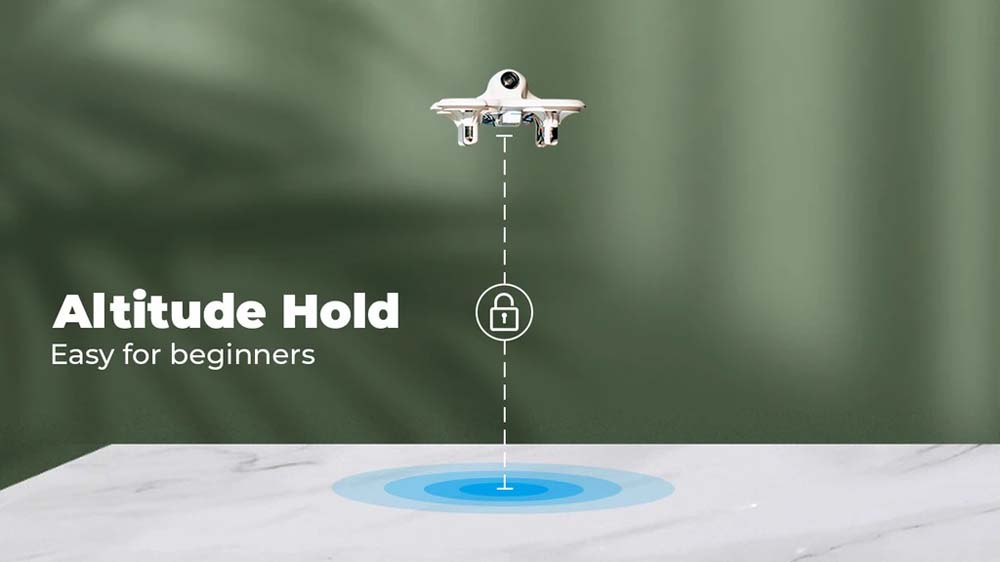 Self-protection Function
The Cetus quadcopter has excellent self-protection function. Which can make an emergency landing whenever lose control or in a low battery. It will also automatically disarm and drop on the ground once it has a strong collision with the object. Since then, let's say goodbye to loss and crash!
3 Flight Modes, One Key Switch
Three modes those N/ S/ M are available, which can satisfy the different needs of pilots and adapt to different flight environments. Whether you're a seasoned FPV pilot or a complete beginner, Cetus FPV Kit lets anyone fly confidently from day one. 3 flight modes can be switched by one SB switch on transmitter, simple and convenient. Meanwhile, these 3 modes all support 3 different speeds with SLOW/MID/FAST, pilots can switch it by one SC switch on the transmitter.
Self-developed LiteSilver System
Cetus brushed quadcopter equipped with lite 1S pro FC. which using LiteSilver system and integrated Frsky D8, Rx 25mW VTX, barometer, laser, and optical flow sensor. LiteSilver is a self-developed flight control system based on Silverware and FreeRTOS real-time operating system. It supports customers in adjusting parameters as they prefer in host computers (not yet open to customers).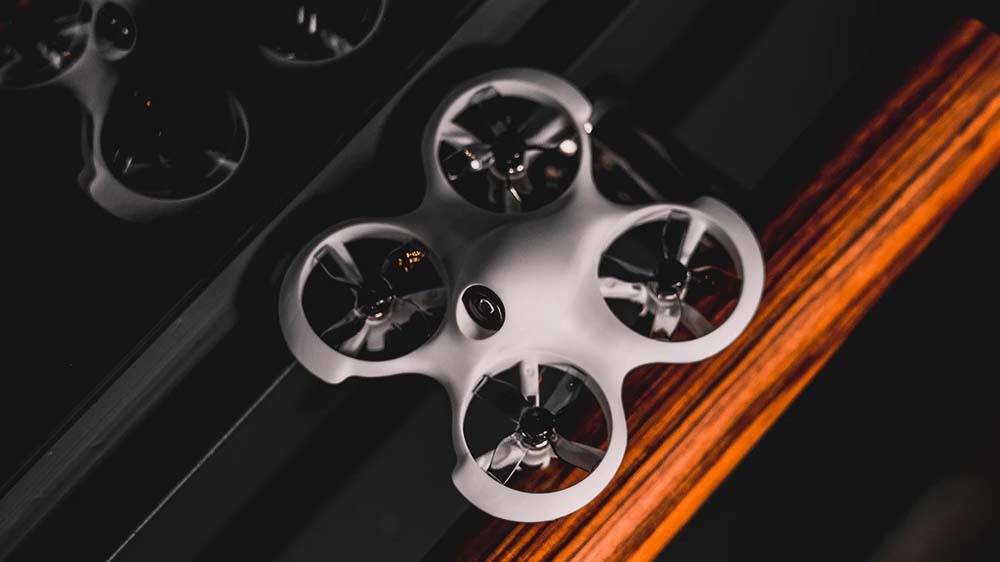 Literadio2 SE Transmitter
Designed for FPV racing starters, the LiteRadio 2 SE transmitter comes with a built-in 1000mah 1S battery. An excellent endurance performance that can up to 8 hours brings pilots a better flight experience. With the hobby-grade gimbal and adopted rubber coat, it is more ergonomic.
VR02 FPV Goggles
VR02 FPV Goggles - the First-Person-View Goggles with the simpler operation and powerful function, is specially designed for FPV starters. It comes with built-in 5.8G 14DBI high-quality antennas, you can receive stable and clear images even for long-range flights. Adopt an ergonomic design with a foam sponge faceplate and a three-sided adjustable headband, this FPV Goggles fits your face and head perfectly.
Includes
1 x Cetus Brushed Whoop Quadcopter
1 x LiteRadio 2 SE Transmitter (Frsky D8 Protocol)
1 x VR02 FPV Goggles
2 x BT2.0 300 mAh 1S Lipo Battery
1 x BT2.0 Battery Charger and Voltage Tester
1 x USB Charging Cable (Type-C)
1 x Type-C Adapter
1 x Prop Removal Tool
4 x 31mm 4-Blade Props
1 x Portable Storage Bag