What a convenient product! This charger is tailored for our BT2.0 300mAh 1S battery. Not only a charger but also a cell voltage tester! Thanks to the on-board LCD display. The charge current is up to 1A, which improved its efficiency and shorten the charging time. By using the BT2.0 connector, it would be very convenient for charging PH2.0 1S battery! 
Features
Specially made for our BT2.0 300mAh 1S battery. The thoughtful design of the BT2.0 connector, so you could charge a 1S battery of PH2.0 cable by using the adapter cable.
Supports to charge two batteries at the same time, its charging current has upgraded from 0.5A to 1A, which makes the charge speed increase to 2 times.
The ingenious design of USB input, it is very convenient for charging. Compatible with mobile phone adapter, computer, etc.
Have two functions of testing voltage and charging in one, compact and easy to carry.
Instruction 
Power-on state
OUT1/OUT2 can be charged simultaneously
Input : USB-5V/2A
Output : 4.35V/1A
The red light indicates charging, and the green light indicates full charged
Power-off state
OUT1 can be used as battery tester while OUT2 does not possess any function
Specifications
Model: BT2.0 1S Battery Voltage Checker
Plugs: BT2.0
Voltage: Works with regular and HV battery packs
Voltage cut off: DC 2.45-4.70V
Voltage range: DC 2.50-4.70V(1S)
LCD: Red
Weight: 15.35g
Dimensions: 66.3*23.6*14.4mm
Working tem: -20~75℃
Storage tem: -25~85℃
BT2.0 Connector
BETAFPV exclusive designed BT2.0 connector has broken through the bottle-neck of PH2.0 connector. BT2.0 connector decreased internal resistance of connector effectively to allow more current that is transferred, which means it supports 9A continuous current(15A burst) offers stronger power and longer flight time on 1S brushless drones while PH2.0 just supports 4.5A You can enjoy more flight time without disturb of low voltage warning through solving the problem of voltage sag. For more instruction, click here to reach.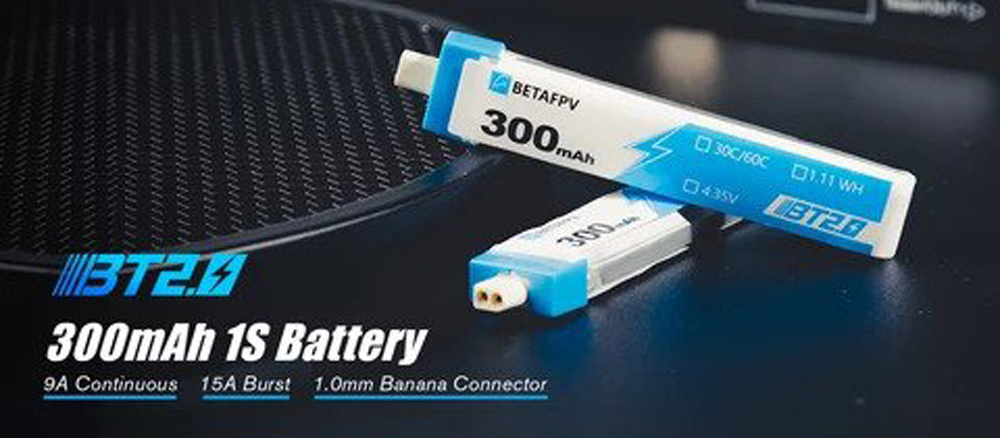 There is a graph of comparison between BT2.0 connector and PH2.0 connector (solid pins version) in BETAFPV 1S 300mAh battery. The discharge current is 9A in this testing. You could see that it has double time (about 2minutes) with BT2.0 connector.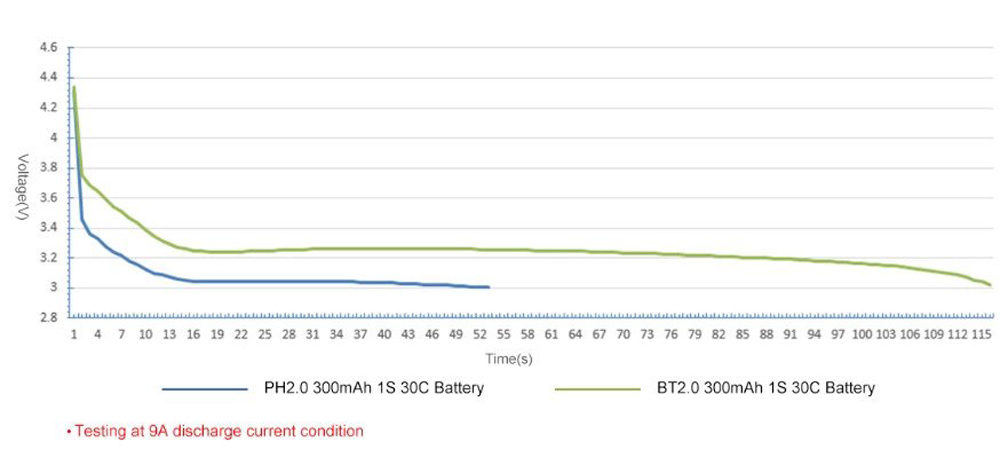 Much more choices of BT2.0 series accessories
We know some of the pilots might have a question about how to deal with the old PH2.0 1S battery. So we provide some accessories like BT2.0 Power whoop connectors for those people who wanna convert the PH2.0 connector to BT2.0 connector.
BT2.0 Connectors (10pcs)
BT2.0 1S Whoop Cable Pigtail
BT2.0-PH2.0 Adapter Cable
BT2.0 Battery Charger and Voltage Tester
BT2.0 300mAh 1S Battery
Includes
1 x BT2.0 Battery Charger and Voltage Tester