The BETAFPV Beta65S Lite is a new version of whoops that comes with the BETAFPV Lite Brushed Flight Controller. Powered by Silverware firmware, which is simpler and affordable, and the  Silverware software does not require switch settings as Betaflight does.
Parts Upgraded
TX: From TX01 to LiteRadio Transmitter
Motors: From 7X16 17500KV to 7x16 19000KV
Frame: From V3 to V4 Frame
FC: From Lite Brushed FC V1 to Lite brushed FC V2
Camera: From 600TVL Camera to 800TVL C01 camera
Canopy: From plastic canopy to PP canopy
Lite brushed FC V2
Integrate 25mW VTX, support change VTX channel brand via control.
Add LiteOSD information and OSD Menu.
Support firmware upgrade in DFU mode via USB port.
Integrate an altitude sensor ( altitude hold function is NOT available now).
2 RGB LEDs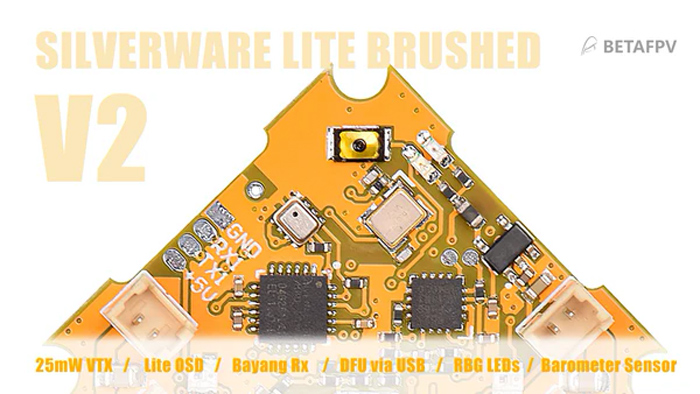 Bayang Lite RF module
If you wanna use your hobby radio transmitter (like Frsky QX7 / X9D etc) to control Beta65S Lite in Bayang protocol or wanna have a long-range control above 300m, we highly recommend this Bayang Lite RF module.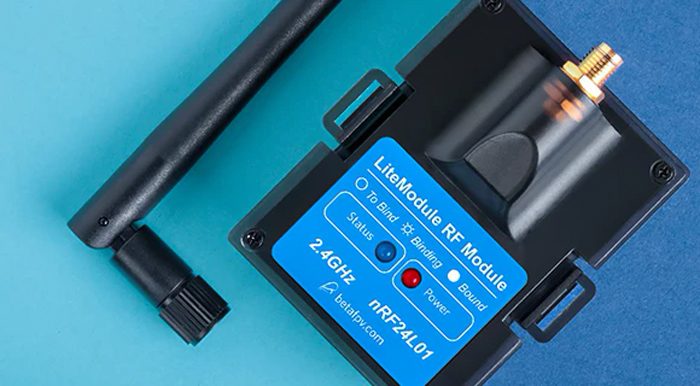 Features
As same as the Beta65S, more punch on the throttle with faster 19000KV 7x16mm motors and 3-blade propellers.
Support level mode and acro mode. Also, it has the ability to change settings for custom builds or to adapt to personal preferences by stick gestures.
Built-in Bayang protocol native receiver, compatible with almost radio transmitter with deviation firmware or deviation compatible transmitter module.
Specification
Wheelbase: 65mm
Weight: 25g (without battery)
FC: BETAFPV Lite Brushed FC V2 (Integrated 25mW VTX)
Motor: 7x16mm 19000KV Brushed Motors
Receiver: Bayang protocol
Camera: C01 camera
Canopy: Canopy for Micro Camera
Power connector: JST-PH 2.0 connector, AKA PowerWhoop connector
Battery: 300mAh 1S Lipo Battery
Flight time: 3 minutes
Silverware & LiteOSD
Silverware is a firmware for some micro quadcopters, which support level mode and acro mode. So you could use this on whoop FPV racing. Also, it has the ability to change settings for custom builds or to adapt to personal preferences.
LiteOSD is also integrated into the V2 board. So that you could set up many configurations according to your own preference easily. The method of entering the OSD Menu on Lite Brushed FC is the same as Betaflight. Make sure the drone is disarmed when entering OSD Menu on Lite 1S Brushless FC.
-Use Mode 2 (American Mode) as an example-
Note: The left throttle stick should be at the middle position and then pull left.
Note: AETR is the default channel mapping of Lite FC. If you can not enter the OSD menu, it might cause by unmatched channel mapping.
If you use a toy transmitter like LiteRadio 1, and also active the TOY_TX option in the OSD menu. You could enter the OSD menu when the throttle stick in the lowest position.
Supported Radio Transmitter
Currently, the built-in receiver is compatible with the Bayang protocol. Here is a listing of radio transmitters that could be compatible with this Lite Drone.
LiteRadio Transmitter
BETAFPV LiteModule RF Module ( with PA, range >300m, suit for Frsky Tanaris QX7 X9D X9D Plus X12S, Flysky TH9X, Turnigy 9XR/9XR PRO)
The radio transmitter of toy drone like JJRC H67, Eachine E011, etc, that using the Bayang protocol
Jumper T8SG radio transmitter
MTX-9D multiprotocol module
Another 4in1 multiprotocol module that supports the Bayang protocol
If not sure whether your radio transmitter could support this FC board, please BETAFPV ( info@betafpv.com) for help.
For example, if you have a Frsky Tanaris QX7 / X9D radio transmitter and want to try this FC board, just plug in an MTX90 multiprotocol module and done.
Includes
1 x Beta65S Lite Micro FPV Quad
2 x 300mAh 1S Lipo Battery
1 x Canopy for Micro Camera
1 x Screwdriver
1 x Carry-on bag